ABOUT US
EXPLORE YOUR PHYSICAL POTENTIAL WITH
movement, strength + play
WE BELIEVE THAT CALISTHENICS IS ONE OF THE MOST EFFECTIVE WAYS TO MOVE BETTER AND GET STRONG
WE WANT TO TO BE AMBITIOUS IN OUR EXPLORATION OF OUR PHYSICAL POTENTIAL BUT DO IT IN A WAY THAT ALSO INVESTS IN OUR PHYSICAL PENSION.
AND ABOVE ALL, WE WANT TO ENJOY TRAINING, HAVE FUN , LIVE LIFE AND BE HAPPY
PEOPLE WE HAVE WORKED WITH get to know what we're about
WE KEEP MOVING FORWARD...BECAUSE WE'RE CURIOUS. AND CURIOSITY KEEPS LEADING US DOWN NEW PATHS.
We are a people who are excited about possibility and refuse to allow chronological age to define what we might be capable of.

We seek to challenge ourselves, both physically and mentally and we know that with dedication, the right coaching and a supportive community, we can redefine our impossible.

Calisthenics is a form of physical exercise that never gets boring. There are always new skills to learn. New strength to master. New ways to move. Progressive challenge paired with tangible goals and the enjoyment that comes with exploring your physical potential is a potent combination for success and fulfilment.
movement is life; without movement, life is unthinkable
How we choose to move or exercise now will have a direct impact on the quality of life we can expect in our latter years.

Whilst the fitness industry continues to obsess and celebrate a 'more in more' mentality where quantity if prioritised over quality, at the School of Calisthenics we train in a way that not only gets spectaular results in the short term, but also makes meaningful investments in our long term physical pension.

Progressive bodyweight training requires minimal equipment, can be done anywhere, provides continual challenge, promotes the right balance of mobility, stability and strength and gives you a way to train that is flexible and effective, all whilst enhancing physical longevity.
PLAY IS THE HIGHEST FORM OF RESEARCH
Play was the original form of exercise. That was until industry created excessive structure and called it a 'workout'. As boredom levels increased more and more people found reasons to avoid movement and stopped getting excited about exercise.
The School of Calisthenics was born out of a desire to rediscover play. We had become bored of the same old movements and bodyweight training allowed us the freedom to explore movement again and see what our human movement systems could do.
Combining movement and play is scientifically proven to improve your happiness and enhance your brain activity through neuroplasticity. Play is central to everything we do at the School of Calisthenics.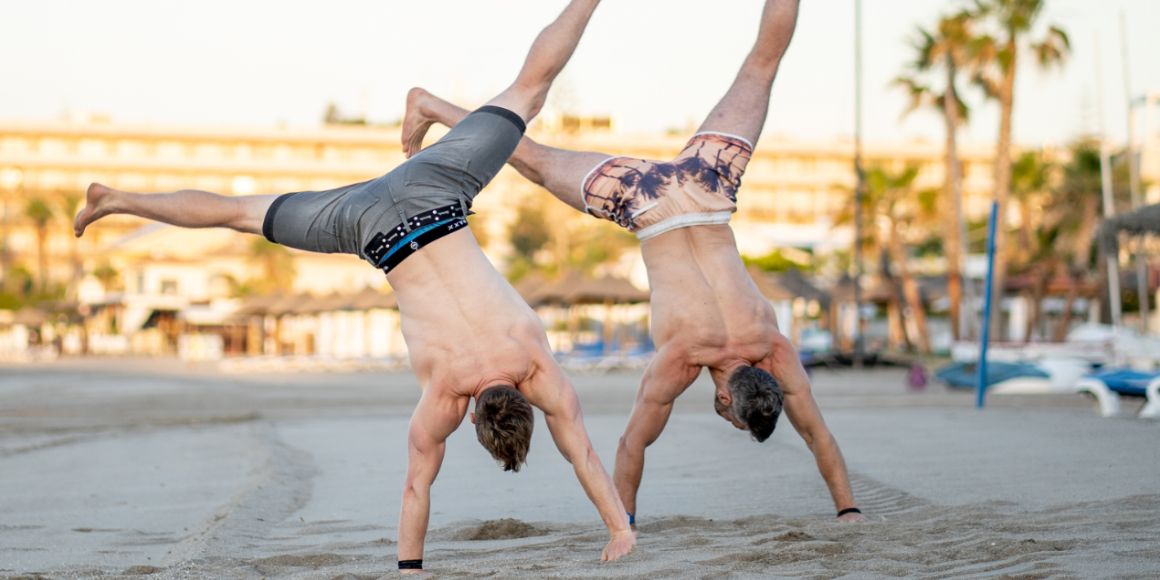 our story
Tim + Jacko started exploring calisthenics as slightly old and broken rugby players in 2014. Progressive bodyweight training re-invigorated the fun that had been lost over years of doing the same old squat, row and press gym programmes.
As professional strength and conditioning coaches they found that a lot of the instructional content was often presented by ex-gymnasts or people who had experience in a complementary form of training.
With no gymnastics experience of their own and an extensive history of rugby-related injuries and surgeries, they could the coaching lacked the progressive approach they needed.


Using their detailed knowledge of exercise science they began developing a systematic framework that enabled them to achieve the gravity defying movements they wanted to learn.


The fulfilment and enjoyment they experienced sparked a passion for sharing calisthenics with other people, who like them, perhaps didn't have the perfect training background but wanted to learn some cool stuff anyway!


In 2016 the School of Calisthenics was established.
Since then they have helped hundreds of thousands of people across the world to explore their physical potential.
People using our online training programmes
People who have redefined their impossible at a face to face workshop
Countries where students explore their physical potential
Predicted number of hours fun and enjoyment had by our community
community
what our community say about us
Hear what the School of Calisthenics means to the incredible community of people who suport each other to explore their physical potential.
expert coaches
Meet our team
Tim Stevenson
CO-FOUNDER
Tim has been a professional strength and conditioning coach working in elite sport since 2008.
He was part of the ParalympicsGB team at the Rio 2016 games, is a UK Strength and Conditioning Association Accredited coach and has a Masters of Research in Exercise Physiology.
David Jackson
CO-FOUNDER
David 'Jacko' Jackson was a professional rugby player for 14 years until his career was cut short due to a head injury.
Jacko is a UKSCA Accredited Strength and Conditioning coach, has sports nutrition and psychology qualifications in addition to his Masters in Engineering and being a qualified teacher.
Owen Jackson
COACH + MEDIA MOGUL
Owen is a qualified PT continually exploring new practices in a quest for growth.

With a genuine passion for calisthenics and a firm belief in the symbiosis of mind and body, he finds bodyweight training offers a complete package.
Jude McLaughlin
COACH + BUSINESS SUPPORT
Jude is a qualified personal trainer, sports massage therapist and yoga teacher with in-depth knowledge of anatomy and physiology.

She believes everyone can be strong and move well, regardless of their training background or ability.
Seth Baguley
COACH
Seth is a coach with over a decade of experience in calisthenics and leading conditioning programmes for athletes across the world.

He is one of the most dedicated and supportive coaches we know and has a depth of knowledge and experience that is rare in the health and fitness industry.
Georgie Gabriel
COACH
Georgie is a Yoga instructor, Personal Trainer and former CrossFit box owner.

She has an incredible balance of movement and strength abilities and is a fantastic and passionate coach.
Josh Cooke
COACH
Josh is a qualified Personal Trainer & Mobility Instructor.

As a Calisthenics Coach he enjoys helping people realise what they are capable of and overcome barriers. He's also passionate about working with students to solve skill based movement puzzles.
Created with